In Germany they christen the team top of the Bundesliga at Christmas die autumn championshipthe autumn champions. While Arsenal mirroring what, in effect, is tantamount to a claim to fame in the Premier League is practically meaningless to Mikel Arteta, it is a milestone that Arsenal have not managed since 2007 and, even if they have played only 14 games, it is increasingly difficult to quell the excitement around his vibrant team.
Martin Ødegaard scored twice in victory at Wolves as Arsenal offered a reminder heading into the World Cup break that they are in undeniably rude health. Wolves, meanwhile, are bottom and badly need Julen Lopetegui to revive their miserable season.
At lunchtime Arteta and his squad tuned into Manchester City's shock defeat by Brentford, a result that guaranteed Arsenal would be No 1 at Christmas. What was the mood when Ivan Toney scored a 98th-minute winner? "As you can imagine," Arteta said, failing to suppress his smile. He knows his team are in the conversation for the title.
For Arsenal the challenge at kick-off was not only to admire the view at the summit but to return to winning ways and subsequently stretch their legs. Ødegaard's double opened up a five-point lead at the top but Gabriel Magalhães, who was left out of the Brazil squad, and Gabriel Jesus, who made the cut, also starred in victory. "It is great to be where we are and we are enjoying the moment," Arteta said. "Nobody expected us to be where we are and to win the amount of games we have."
Results elsewhere may have been kind but this game felt as if it was set up to test Arsenal. Granit Xhaka was replaced by Fábio Vieira after 15 minutes, the midfielder among the players left feeling queasy following the prematch meal. Ben White's annoyance at a Wolves goal-kick and not an Arsenal corner being awarded midway through the first half led him to underarm the ball in the direction of the assistant referee Harry Lennard, earning him a ticking off from the referee, Stuart Attwell. Wolves, perhaps buoyed by Arsenal's frustrations, seemed to grow in confidence.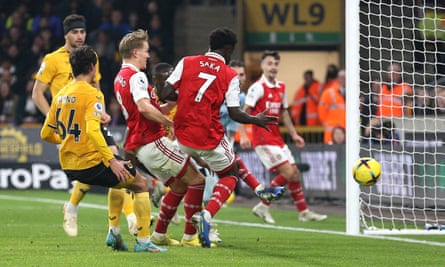 They were, however, aggrieved at the failure to be awarded an eighth-minute penalty when William Saliba clumsily bumped Gonçalo Guedes over in the box. "Why do we have VAR when they can't make a decision?" said Steve Davis, who took charge of his boyhood club for the final time. "The point of it is a waste of time. He should have been sent off. It should have been a penalty. It's a major gamechanger. I'm disappointed with the decision. We needed that break."
Lopetegui visited the Wolves training ground on Friday but officially begins work on Monday. He embarked on a pre-match lap of the pitch, beating his chest and giving supporters singing his name the thumbs up before taking his seat in the stands. Jeff Shi, the Wolves chairman, said eventually landing Lopetegui – he twice turned down the job, once in 2016 and more recently in the aftermath of Bruno Lage's sacking because of his father's ill-health – felt like destiny.
Arsenal scoring also felt somewhat inevitable. They had done so in every league game this season and, when Vieira picked up Jesus's pass and slid the ball into the six-yard box, Ødegaard tapped in with Bukayo Saka queueing up behind him. "We don't know what his limit is, like many of the kids we have," Arteta said of Ødegaard, who would have scored again soon after the hour had Toti Gomes not hoovered up a delicious, weighted pass by Jesus.
With 15 minutes to play it was game over after Ødegaard doubled his tally against a Wolves team that have mustered eight league goals all season, the worst attacking record in the division. Martinelli pinched the ball from the Wolves teenager Dexter Lembikisa and located Oleksandr Zinchenko, who drilled in a cross. Martinelli stabbed a shot at goal, prompting José Sá to save with his right boot, only for Ødegaard to smack the ball into the corner with his left. Arteta whirled his right hand around in celebration, another sweet victory secured. "We are top of the league," crowed the Arsenal fans.